SHORT INFORMATION ON THE ISLAND OF ELBA
With a distance of 10 km from the continent and a size of 224 qkm Elba is the biggest island of the Tucan Archipelago and actually the third-biggest of Italy. For many years now big parts of the Elba Island and of the other islands of the Tuscan Archipelago (Pianosa, Capraia, Montecristo, Giglio and Giannutri) are protected in the National Park of the Tuscan Archipelago
The climate is always mild with a middle annual temperature of ca. 16°; the medium in the winter is about 10° degrees, 14° in spring, 23° degrees in summer and 17° degree in autumn. The medium water-temperature of April is always about 19° degrees, 20° in May, June about 24°, 26,8° degrees in July, in August 27,3°, September 25,5° degrees and October 23,1° degrees.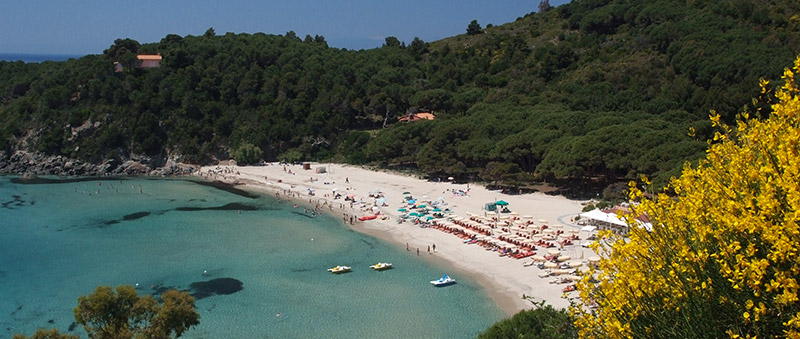 The variety of the cost – altogether we have here a costlenght of 147 km – will satisfy every taste You can find wonderful sand- stone- or gravelbeaches, some are also hidden and can be developed only by boat. But even in the high season you will always find places, which are far away from the usual tourism and which you will have alone for yourself.
The main roads (circa 160 Km) è are all asphalted. There are also around 80 km of dirt roads.
Already in acient times Elba's destiny was always deternined by two factors: its strategic position and the richness of its mineral resources. Due to these characteristics, it was often the object of conquest for the various powers along the Mediterranean. For the Etruscans and the Romans Elba represented an inexhaustible source of riches and the iron from Elba contributed to the prospering of their civilazation.

During the Medieval period Elba was dominated by Pisa. The remains of some important and striking defensive structures testify to the importance of possessing the island. The Applani Lordship followed, as did the attentions of Cosimo de Medici, who built "Cosmopoli" on top of the ruins of the Roman city of Fabricia – now the capital Portoferraio – and had it surrounded with the impressive walls that saved the inhabitans from many pirate raids. The Spaniads settled in Porto Azzurro and they too made sure to construct defenses on their territory – the imposing San Giacomo Fort still dominates the pleasant landscape.
In the more recent history, the period that made this island famous and placed it on the world map was the brief exile of Napoleon, who stayed here for 10 month prior to his 100 days adventure which was finished in Waterloo.Bonaparte left a significant mark of his short reign: Important reforms and buildings like his Townhouse "Villa dei Mulini" in Portoferraio and his impressing summerresidence "San Martino" – which are now museums and can be visited.

The island is diveded in 8 municipalities: the capital Portoferraio, Campo nell'Elba, Capoliveri, Marciana – with the biggest size, Marciana Marina, Porto Azzurro, Rio Marina and Rio nell'Elba.
The famous wines and the exellent kitchen should give – next to the kindness of the inhabitans, the beauty of the landscape, further the impressive waterquality and the annual mildly climate – a big incentives to spend your holidays here on the Island of Elba. We will welcome you!